Search Leeds & UK Site
View leeds-uk on

Facebook
Shopping in Central London, UK
Famous London Shopping Streets
Carnaby Street Jermyn St King's Road New Bond Street Oxford Street Piccadilly Regent Street Seven Dials
The Famous London Shopping Streets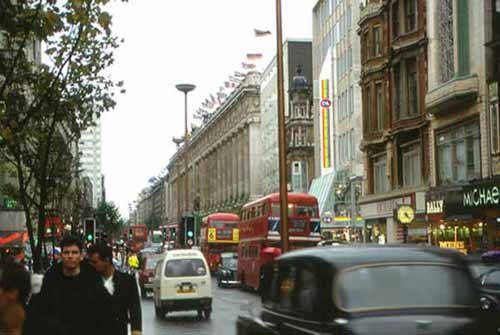 Oxford Street London with Selfridges flying all the flags.
Photo by roger4336
Carnaby Street Jermyn St King's Road New Bond Street Oxford Street Piccadilly Regent Street Seven Dials
Carnaby Street
Became famous in the 1960's when it was THE fashion venue in this historic fashion period. It is still one of the Worlds top fachion streets with it's designer boutiques & shops..
Jermyn Street
As Saville Row is Known for it's high end suits Jermyn Street is known for its high end shirt shops
Thomas Pink

Thomas Pink Mens Shirt

Click Banner to view Thomas Pink products



or Vist our Thomas Pink Page


Thomas Pink Ladies Shirt Dress
One of the best Shirtmakers is Thomas Pink who manufacture both mens & ladies shirts, knitwear & accessories
King's Road
High Fashion and trendy new designs in clothing and household decoration can be found along Kings Road & at it's start in Sloane Square
Laura Ashley
Home and Fashion
120 Kings Road, London, SW3 4TR

New Bond Street - Old Bond Street
New Bond Street & Old Bond Street is renowned for the higher end in shopping luxury. You will find the very top designer names in these two streets.

Tiffany
Tiffany's are the world's top jeweler.
Branches in London:
25 Old Bond Street
Selfridges, 400 Oxford Street, London W1A 1AB, London W1S 4QB
145 Sloane Street, London SW1X 9AY
Harrods, 87-135 Brompton Road, Knightsbridge, London SW1X 7XL
The Courtyard, Royal Exchange, London EC3V 3LQ
Westfield Shopping Centre, The Village, London W12 7GQ
Cabot Place, Canary Wharf, London E14 4QS
Heathrow Airport T3 & T5 (Both Airside) Heathrow Airport Hounslow
Oxford Street
From Marble Arch to Tottenham Court Road is 1.5 miles and full of end to end shops and Londons Main Shopping street.
Austin Reed Menswear & Womenswear
Austin Reed 1002, 103-113 Regent Street, London, London, W1B 4HL

Debenhams Oxford Street London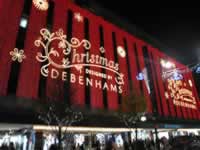 Debenhams Oxford Street London
Photo by minor9th
hmv Oxford Circus
150 Oxford Street,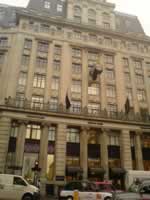 House of Fraser
Photo by
secretlondon123
House of Fraser
House of Fraser, 318 Oxford Street, London W1C 1HF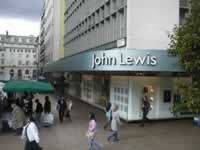 John Lewis Oxford Street London
Photo by
Dan Lockton
John Lewis
John Lewis, 278-306 Oxford Street, London W1C 1DX
Marks and Spencer
Marks and Spencer also known as M&S has over 400 shops throughout the World with 21 million people visiting there stores every week..
Marks and Spencer Merchantdise
Just over half there business is through the food department the rest by the Ladies & gents Clothing departments and the home department.
Brief History
In 1884 Michael Marks started his carear wth a market stall, "MARKS PENNY BAZAR" in Leeds Kirgate Market where all goods were sold for 1 penny.
Spencer was one of his suppliers who had a small warehouse near the market. The 2 men went ito partner ship and opened there first warehouse shop in Manchester
There flagship London store was opened in 1930 in Oxford Street, but only the basement & ground floor, later expanded to 4 floors.
Marks and Spencer, 458 Oxford Street, London W1C 1AP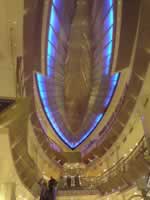 Plaza Shopping Centre Oxford St
Photo by
superba_
Plaza Shopping Centre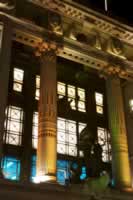 Selfridges Impressive Front
Photo by
zoonabar
Selfridges, Oxford Street
Selfridges, 400 Oxford Street, London, UK W1A 1AB
Selfridges is a massive store located on Oxford Street near to Marble Arch and was established in 1809.
The store is probably best known for it's "Miss Selfridge" brand on Ladies fashions but it also sells a vast array of goods in its many different departments including:
Accessories
Beauty
Children's
Home & Leisure
Food & Drinks
Gifts
Mens wear
Womens wear
You will also find 4 cafes or restaurants throughout the store

Primark
499-517 Oxford St, London W1C 2QQ

Schuh
Uniqlo

Underground Stations in Oxford Street
Marble Arch
Bond Street
Oxford Circus
Tottenham Court Road

Bus Routes along Oxford Street
7, 8, 10, 25, 55, 73, 98, 390
Piccadilly
Fortnum and Mason
Most famous for it's food hall that supplies the Royal Family, Fortnum and Mason is the most prestigious store along Piccadilly.
Besides it's food the store has great gifts for Him & Her and a wide range of Cookware and Dining wear.
There is also a choice of 4 restaurants & a Wine bar
Fortnum and Mason, 181 Piccadilly, London W1A 1ER, United Kingdom
Regent Street
Austin Reed Menswear & Womenswear Store
Austin Reed 1002, 103-113 Regent Street, London, London, W1B 4HL
Hamleys Gigantic Toy Store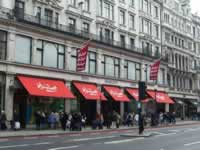 Hamleys toy store
Photo by MuLaN™
Hamleys is the largest toy store in the United Kingdom and has a vat array of over 40,000 toys and games over it's 7 floors.
The staff are experts at demonstrating the merchandise making Hamleys the best toy store in the World.
Address: 188-196 Regent Street, London, W1B 5BT
Routes: 3, 6, 7, 8, 10, 12, 13, 15,23,25, 55, 73, 88, 94, 98, 113, 137, 139, 159, 177, 190, 390, 453, C2
More Hamleys Stores are in the following locations
Glasgow - St.Enochs
London St.Pancras
Heathrow Airport - Terminal 1
Gatwick Airport - North Lounge
Stansted Airport
York
Dublin - Dundrum Ireland
India
Middle East
Liberty
Liberty
The store sells fabrics, ladies & gents designer clothing, arts&crafts, anttigues, and personal beauty & grooming products.
In 1875 Arthur Liberty opened his shop at 218 Regent Street, selling ornaments, fabric and objets d'art from Japan and the East.. His store Liberty rapidly became synonymous with luxury and great design which continues today.
The fabulous timber framed Tudor style building along Great Marlborough Street was opened in the 1920's
The Tudor building is located 30 metres from Regent Street along Great Marlborough Street
Regent Street Transport

Underground Station for Regent Street :
Oxford Circus - Central, Bakerloo and Victoria lines
Piccadilly Circus - Piccadilly and Bakerloo lines

Bus Routes along Regent Street No's: 3, 6, 12, 13, 15, 23, 53, X53, 88, 94, 139, 159 and C2
Seven Dials
Tottenham Court Road
Tottenham Court Road is more specialised that other Shopping Streets
At the northern end are the House, Home & Furniture shops& Stores and at the southern end the electronic and Computer shops, many with on line sales.
Harvey Nichols Store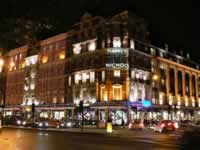 Harvey Nichols
Photo by yisris
Also known by it's nickname "Harvey Nicks" this famous store mainstay is it's Ladies & Mens clothing departments where you will find the top end quality in it's luxury merchantdice.
Magnificent views of the West End can be see from the fifth the top floor cafe with an outdoor terracerestaurant. On this floor is also the Restaurant, bar & Food hall with a wine shop
Open
Mon - Sat: 10am - 8pm
Sun 11:30am for browsing & Noon for sales - 6pm
Located on the corner of Knightsbridge and Sloane Street
Harrods Department Store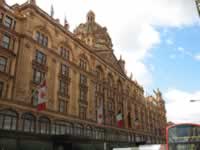 Harrods Department Store
Photo by nikoretro
Harrods is the best known luxury Department Store in the World, and it's owner Mohamed Al-Fayed a businessman from Egypt & a billionaire is also know World wide, especially after the sad death of Diana Princess of Wales & .Mohamed Al-Fayed son, Dodi Al Fayed were killed in the Paris Car Crash in 1997
The store opened in the 1880s
87 - 135 Brompton Road Knightsbridge London
Markets Indoor & Street Markets
Brick Lane Market Camden Market Camden Town Petticoat Lane Market
Brick Lane Market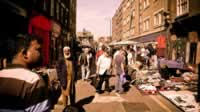 Brick Lane Market
Photo by unicellular
Sunday only 8 am - 2 pm
Brick Lane Market is a large Sunday Street flea market that is connected by Wentworth Street to Petticoat Lane (Middlesex Street)
Brick lane is also a nightlife centre with it's good bars, clubs and lots of very good Curry Houses
Old Truman Brewery in Brick Lane
61 Brick Lane
Now the home of very trendy shops & bars and artistic designers
The Sunday market extends into this building and it is where a lot of up & coming young designers set up there stalls selling fashionable clothes, art & crafts & fashion accessories
Good Bars in Brick lane
Vibe Bar
0pposite Old Truman Brewery Outdoor Terrace
93 Feet East
on Brick Lane frontage of Old Truman Brewery
Outdoor Courtyard
Open 7 days a week:
Monday – Thursday: 5pm – 11pm
Fridays: 5pm – 1am
Saturdays: Midday – 1am
Sundays: Midday – 10.30pm
The Brickhouse
TheBigChill bar
Loco Mojito
Camden Market Camden Town
Covent Gardens Market
Petticoat Lane Market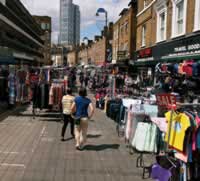 Petticoat Lane Market
Photo by Nagyman
on maps as Middlesex Street
Extremly well known Sunday Street market selling almost everything.
Trinity Market
Next to Covent Gardens Market
Shopping Centres
The brand new Shopping centre at Stratford has now opened.
Charing Cross Underground Shopping Arcade
Located in a

London Unergroubd Tube passageway accesses from next to Starbucks coffee shop In the Strand, opposite

Charing cross Railway Station
Davenports Magic Shop
7 Charing Cross Underground Shopping Arcade, Covent Garden, London WC2N 4HZ ;
The ID Photoshop
18 Charing Cross Underground Shopping Arcade
Brent Cross Shopping Centre
We have placed the Brent Cross Shopping Centre on our list although it is outside Central London but still within the M25 motorway. The centre is located within the London Borough of Barnet
Brent Cross Shopping Centre has
120 shops, stores, a bank, Bureau de change(in M&S) or cafes, coffee shops, fast food outlets & restaurants

Major Stores

Boots
Fenwick
H&M
John Lewis
Marks & Spencer
Waitrose
WH Smith

A free Car Park for 8,000 cars that suround the shopping centre on all 4 sides
Location:
Nearby main roads: M1, A41 Hendon Way, A5 Edgware Road and A406 North Circular Road
Address: Prince Charles Dr, Barnet, London NW4

Nearest Underground Stations
Hendon Central roughly 5 minutes walk
Brent Cross 10 minute walk or use bus service

The bus is the most convient metod of public transport
Bus Routes that go to the large Brent Cross Bus Station just outside the centres main doors
102, 112, 113, 142, 143, 182, 186, 189, 210, 232, 266, 326 and C11.

The Mainline Station is 15 minutes walk
One New Change
St Pauls
http://www.guardian.co.uk/business/2010/oct/28/one-new-change-shopping-centre-opens
28 October 2010
Plaza Shopping Centre - Oxford St
http://www.theplazaoxfordstreet.co.uk/
The Plaza, 120 Oxford St, London W1D 1LT
Shops, Coffee bars, Cafes as listed below
Accessorize
BB's Coffee & Muffins
Cards Galore
Classic
Clinton Cards
Dune
Games Workshop
Glirne
Heena Beauty
High and Mighty
KFC
M Butterfly
Medicentre
Pizza Hut Express
Post Office
Selin
Sports Direct
Spudulike
Starbucks
Subway
Supercuts
Taza La Plaza
The Perfume Shop
Uniqlo
Virgin Active
Waterstone's
WH Smith
Yam Yam To Go
London Underground
Tottenham Court Road
Oxford Circus
Victoria Place
http://www.victoriaplaceshopping.com/
Westfield London
The largest Shopping Centre in Europe
Stratford -
The Mall
Westfield Stratford
Another large westfield Shopping centre as now been built and open for business.
Built at Stratford for the olympic Games
City of London Shopping
One New Change
One New Change is the largest & newest Shopping Centre in the City of London.
Because of it's controversial style it has been nicknamed 'The Stealth Building"
One of the good thing about it is its views from its roof terrace, and a visit there is absolutely free. On my visit a roof terrace cafe was been fitted out & should now be open.
A dramatic close view of next doors St Paul's Cathedral is available with the roof of the main part of the Cathedral just above eye level. Unfortunately a bit of bad designing prevents the view of the bottom portion of the Cathedral.
Spectacular unusual views of St Paul's Cathedral can be seen from the glass sided lift so have your camera or Video camera ready on your journey to the roof.
London Transport
Visit our London Transport Page
or use the London Journey Planner
London menu
London Hotels
London Airport Hotels