Thackray Medical Museum, History of health, disease, treatment and medical discoveries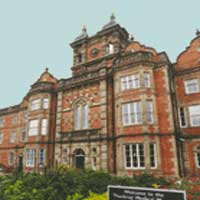 "From the horrors of the Victorian operating theatres to the wonders of modern surgery, the Thackray Museums galleries, collection and interactive displays bring to life the history of health and disease, treatment and cures, medical discoveries, equipment and technology."
The museum is named after Chas F Thackray, who had one of the United Kingdoms main medical companies.
We now live 50 years longer than we did 160 years ago find out why
Admission Charged (Concessions available)
Allow up to 3 hours for a visit.
Thackray Medical Museum Location
Location
2 miles north east of the city centre in the grounds of St James Hospital, Beckett Street.
The museum has its own on foot entrance from Beckett Street or use the hospital main entrance if arriving by car , turn right at the roundabout just inside the main entrance driveway, a car park for the museum is beyond the barrier.
Address
Thackray Museum, Beckett Street, Leeds LS9 7LN

Tel (0113) 244 4343
Bus routes from City Centre to St James Hospital
Ask for St James Hospital. The bus stop is 100 yards fro the museum
Bus route 49 to Monkswood Gate. Bus stops in Westgate, The Headrow, Eastgate & St Peters Street. Every 10 minutes
Bus route 50 to Seacroft. Bus stops in Westgate, The Headrow, Eastgate & St Peters Street. Every 10 minutes
Bus route 88 to Halton Moor. Bus stops in Westgate, The Headrow, Eastgate & St Peters Street. Every 30 minutes
Bus route 42 to Feanville. Bus stops in Wellington Street, Infirmary St., The Headrow, Eastgate. Every 10 minutes
Bus route 4 to Whinmoor. Bus stops in Wellington Street, Boar Lane, New York St., York St. Every 10 minutes
Bus route 61, 62 Leeds General Infirmary Every 30 minutes

Opening Hours