Search Leeds & UK Site
Leeds Nightclubs and Leeds clubs nightlife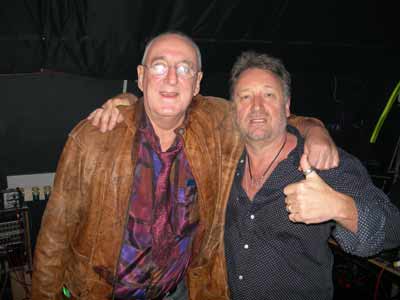 John McGuinn of leeds uk.com with Peter Hook of New Order

Club, Nightclub or Disco Owners or Managers Add your Venue to our list.
Click for Leeds Pubs and bars Leeds Suburbs Bars & Pubs
The section of Briggate on the river side of Boar lane although officially Briggate this section is known locally as Lower Briggate
See our brand New Blog pages with Reviews
Here you can read reviews already posted.
Use our quick links below
Blog Home page Leeds Bars & Pub reviews Leeds Nightclub Club & Disco reviews
Leeds City Centre Hotel reviews Leeds & Bradford Airport Hotel reviews Leeds Suburb Hotel reviews
If you register you have the added benifit of been able to add you own comments to a review, or write a review yourself .
Nightclub Bar & Pub Owners or Managers add your details Free
Baja Beach Club Nightclub
near Merrion Centre

Baja Beach Club is the place to go if you want a great night. The club has an original beach theme with girls in bikinis and hunky bar staff and is licenced for around 1300 party people in it's 5 bars

The music is a mixture of cheese and chart.

Hen or stag night check out the webiste for deals and packages at the number one place to party.

Email if its your birthday for the VIP experience.

Front terraced smoking area

Baja Beach Club, Baja Beach Club, 43a woodhouse Lane, Leeds, LS2 8JT. Telephone 0113 2436215
Opposite Morrison's supermarket & Merrion Centre
Telephone: 0113 245 4088

Birdcage show bar Nightclub & Cabaret bar *** Leeds Number 1 Nightclub ***
Boar Lane

The Birdcage voted Leeds Number 1 Nightclub (The Yorkshire Eve Post Nightlife Awards Award based on Votes from The People Of Leeds)

The Birdcage is famous for it's Cabaret & Drag shows including comedy drag on Fridays & Saturdays

Open Wednesdays to Sundays 9pm (8:30pm Fri & Sat) to 3am

The Birdcage is located behind the bus stop shelter in The Bond Street centre on Boar Lane. Leeds City Station is only 2 minutes walk.

Birdcage show bar, 52 56 Boar Lane, Leeds, LS1 5EL 0113 246 7273

More information or post your own review in our The Birdcage Review Page

See location of The Birdcage on our Leeds Nightclub Map


Miss Orry at The birdcage
Cockpit Nightclub
near City Square

A very popular gig venue

Swinegate, Leeds, LS1 4AG 0113 244 1573

Deep Blue gentlemens club
near City Square

Deep Blue, Leeds exclusive gentlemens club, with luxury VIP suites, which include: mini bars, private music systems, and stocked with finest champagnes, beers and spirits.

We offer great packages for stag groups, beautiful girls with topless stage shows every 20 minutes all this in luxurious surroundings

Smoking area on the terrace in front of the venue

We also offer a free hummer chauffeur service to either club from anywhere in Leeds, just call 07598 131 974.

Deep blue, 36 Wellington Street, Leeds, LS1 2DE


Deep Blue Gentlemens Club Leeds


Deep Blue Club Interior

Bed Nightclub, Bar & Lounge
New Briggate

Bed is a a large nightclub, Bar, cocktail lounge and cafe not open on Sundays

Student nights Mondays with Chic beat student party night and funky house and dance floor anthem music are Wednesday with Game on partying to Anthems & RnB

Bed, 54 New Briggate Leeds LS1 6NU

Backroom
Call Lane

Backroom, 52 Call Lane, Leeds, LS1 6DT 0113 243 8666

Halo bar Nightclub
near University

Halo's is set set in a grade one listed former church at a cost of £4million. It's nearness to both Universities and the central colleges along with it's student friendly atmosphere makes Halo very popular with Students. It is said that the building has excellent acoustics

Halo church, Trinity Street, Woodhouse lane, Leeds. Tel: 07732 083911

See location on Leeds Nightclub Map

HiFi Club Nightclub Voted Leeds best Live venue
near Corn Exchange

The HiFi Club is a nightclub and live music venue.

Three times winner of both the "Best Nightclub" and "Best Live Music Venue" at the annual Leeds Bar & Club Awards, we are a friendly and welcoming spot with an emphasis on quality music and drinks.

We have a range of DJ led and live music nights based around a variety of musical genres including motown, funk, soul, jazz, and hip hop, sitting alongside our ever popular Saturday evening Comedy Club.

HiFi Club 2 Central Road, Leeds LS1 6DE Off Duncan Street

Jongleurs Nightclub Comedy Club
Merrion centre

Jongleurs have around 16 clubs around the united Kingdom. The large Leeds club has moved to the Oceana Nightclub.

Jongleurs comedy club makes a welcome return to Leeds and can be visited any weekend, where the show is Live at the Oceana Nightclub in Leeds.

Every Friday & Saturday night from 7pm , bring a smile to your face & have a hearty laughthis weekend, with some of the U.K.'s funniest comedians

Simply call the Jongleurs Hotline on 08700 111 960 or visit http://www.jongleurs.com/ to book your tickets and table, choose whether you would like a meal at the event and relax in the knowledge that your weekend will be full of laughter!!!

Also, as a complimentary addition for every Jongleurs guest, the full splendour or Oceana Leeds will be opened up for your entertainment from 10.30pm!

Jongleurs NEW Address

Jongleurs @ Oceana

16 - 18 Woodhouse Lane Leeds LS2 8LX

tel: 08452 932862
Loft Nightclub (Gay)
off Lower Briggate

The best gay night out in Leeds on a Monday under the banner of Pink Pounder in both the Loft & Queens court . Low drinks prices Branded drinks from £1 all night. Entrance Free before 8pm, £3 before 10pm, then £4.

The Loft club is located above Queens Court bar, entrance in Queens Court courtyard.

The Loft club, Queens Court courtyard off lower Briggate

Mezz Club
Exchange Quarter

Mondays Student night Monday Surgery 10pm 3am
Tuesdays Shambles a madness nig.t 10pm 3am
Thursdays Student night Tequila A big night out for students
Fridays mix of eclectic and electro in Play Vinyl
Saturday Glasshouse This is a premiere all night event 11pm 9am
Sunday Mayhem launches 30 Aug 2009. 10:30pm 06am

Located behind The Corn Exchange at:

Waterloo House, Assembly Street, Leeds. LS2 7DE


Mezz Club Leeds

Mint Club

The Mint Club, voted best small club in the UK 2010

Club with live bands & artists

Address: 8 Harrison Street, Leeds, West Yorkshire LS1 6PA

Mission Nightclub (Gay on Thursday, Mainly straight with a gay mix other nights)
off Lower Briggate

Mission has undergone a major £1,000,000 refit with a great new look with event nights Missionary, Purrfect Electro, Glasshouse, Kissdafunk & Studio Funk, In Bed With Space & the gay night Homo

Mission Main Entrance 8 13 Heatons Court. Leeds LS1 7BT
Mission 2 Entrance Lower Briggate next to Railway Bridge

More information or post your own review in our The Mission Review Page


Mission 2 Entrance

Mosquito Nightclub
Greek Street

Mosquito Nightclub is an high enery venue which specialiases in cocktails especiallyones based on rum and Tequiila.

The Mosquito bar is furnished out to an extremly high standardard providing comfortable seating around it's island bar the centre piece for the lively fun filled atmospere.

An unusual featute is the large double bed that also acts as a stage when live bands perform on Wednesdays and Saturdays

Mosquito Nightclub, 7 Greek Street , Leeds, LS1 5RW, Telephone 08704422720


Mosquito Nightclub Leeds
My House Nightclub
Bus Station area

formerly Stinky's Peephouse

A 3 story venue with large outdoor terrace with live bands & gigs

My House, 1 Brick Street, Leeds LS9 8AA

O2 Academy Leeds
Near Merrion Centre

Originally a cinema the venue is now a club.with lots of gigs

Dr. Martens have teamed up with the O2 Academy for the first month of parties (the first headlined by Nick Grimshaw from

Radio 1) and to kick off each night there will be DJ sets taking place in the brand new Dr. Martens store on King Edward Street from 4-5pm every Saturday.

Tickets for the evening on the door cost £5, advance tickets online are £4 and if you buy them in the new Dr. Martens store in Leeds, they will only set you back £2. Not only that but you'll also get a 15% discount redeemable in the Dr. Martens Store in Leeds for that day as well.

O2 Academy Leeds in Leeds 55 Cookridge Street, Leeds , LS1 3AW

Phone: 0113 389 1555


O2 Academy Leeds

Oceana Nightclub
Merrion Centre

Voted Leeds Best Club in the 2006 Leeds awards. The Oceana has several themed rooms, The Aspen Ski Lodge, French Boudoir, Sydney Harbour side Vip room, the Grand Venetian Ballroom & the New York Disco

Mondays: Rendezvu Funky house, RnB
Wednesdays: Vodka Nationwide Big anthems. A big big student night
Thursdays: Essential Funky House, RnB, Indie 0's and 80's Disco
Fridays Funky House, RnB, Indie 0's and 80's Disco
Saturday Funky House, RnB, Indie 0's and 80's Disco
Sunday: Indie

The normal smart dress code is relaxed a bit on Sundays

Oceana Nightclub 16 18 Woodhouse Lane, Leeds, LS2 8LX

Queens Court Bar & Nightclub Gay
Lower Briggate

Queens Court heart of the Leeds gay scene, The largest gay bar and club in Leeds with a capacity in excess of 700, QC offers something for everyone day or night Monday night is the Pink Pounder and is absolutely heaving with people. Other popular nights are Thursday and weekends.

The large outside courtyard drinking area is the location of The courtyard parties run in conjunction with Bar Fibre are extremely popular in both the afternoon, evening and night

The largest gay bar and club in Leeds with a capacity in excess of 700.
2 Floors
2 Dance floors
2 Bars.
Downstairs Queens Court, Upstairs The Loft
Large outside courtyard drinking area.
Drinks Offers

Don't miss the Monday night Pinkpounder

Queens Court, 167 168 Briggate, Leeds. Entrance in Queens Court courtyard

The Space
Merrion Centre

The Space Nightclub is located in Hurst Yard (off Lower Brigatte / Duncan St / The Calls)

Home of Funky Dory, Habit, Retro, Twisted, Exposure,

The Space Nightclub, Hurst Yard (off Duncan St) Leeds LS1, Leeds LS1 6NJ
Phone: 0113 246 1030

See location on Leeds Nightclub Map

The Subculture
Merrion Centre

The Subculture Nightclub, alternative nightclub hosting goth, punk, metal, hip hop nights. If you like alternative music you are fairly sure to find some of the nights at the Subculture Nightclub is just the thing for you. Some of the popular nights go under the names of

Black Sheep Weekly Goth night. Sunday
Fitz Of Youth Punk. Rock, Indie & Emo. Live Bands. 1st and 3rd Mondays
Gigantic Cutting edge and blogged up alternative indie, alternative dance and alternative rock

Hospital Radio

Indie, Emo, Rock & Electro Party. 4th Fridays

Juvenile Hall

Hardcore, emo, metal and punk, 3rd Saturdays

Idioteque

The finest bands playing the weird, the pop and the wonderful

Nightclub of the Living Dead

Zombie night with horror film fun and Alternative music. 4th Saturdays

The Slippery Belle

a burlesque & cabaret night 1st Saturdays.
And many more

The Subculture Nightclub is located on the ramp going into the Merrion Centre at the corner of Wade Lane and Merrion Street

The Subculture Nightclub, Merrion street, Leeds, LS1 8LW, ,

See location on Leeds Nightclub Map

The Vault
Financial Quarter

The Vault, The Official afterparty @ the vault. Playing funky and electro house til 6am.
Free b4 11pm and £3 admission afterwards.
The vault capacity 500 with 2 bars

The best kept secret in Leeds

Smoking area is Located at the front entrance

The Vault, South Parade, Leeds LS15RD
Tel Number: 0113 2432 300

See location on Leeds Nightclub Map

The Wire

Nominated in 2009 by DJ Magazine in the top>5 Best Small Clubs In Britain and popular for

Indie, Rock and Alternative Dance fans.

Afterhours venue

Address: 2a Call lane, leeds. LS1 6DN

Next to the railway bridge

See location on Leeds Nightclub Map

Twilite Club


Twilite Club
Warehouse Nightclub
Westgate area

In May 2010 The Warehouse Leedswas restored to pristine condition with a full upgrade to its infrastructure. Amongst the many features on offer with the new club is a bespoke sound system built by Void Acoustics and DirtSounds with the brief that the resulting audio should be akin to a spiritual experience.

The Warehouse has new chillout areas featuring leather lounge beds, new state of the art dj booth, new plumbing, new toilets, and new air conditioning.

The Door policy for our nights will be strict to ensure a friendly, non-pretentious vibe. All sexualities of course are welcome, however The Warehouse has always been a club with a strong mixed crowd and we will be encouraging that whenever possible.

Home of the Ledgenory Speedqueen events.

Warehouse 19 21 Somers Street, Leeds, LS1 2RG 0113 246 8287

Wildcats Lapdancing Clubs
The Headrow

Premier late night lapdancing venue, Upto 60 girls working on any night. Open 7 days a week from 9pm till 6am. Stunning venue and stunning girls.

A covered smoking area is available towards the back of the building

Closed Nightclubs in Leeds

Atrium Grand Arcade

Elemental Nightclub Corn Exchange

Fire

Fudge Exchange Quarter

Fracture Exchange Quarter

Jumpin Jaks Wellington Street

Majestic City Square

Oslo, Lower Briggate

Rehab Nightclub, Victoria Quarter

Religion, Lower Briggate

Soul Circus, Lower Briggate

The Venue club Grand Arcade

,
Nightclub Bar & Pub Owners or Managers add your details Free